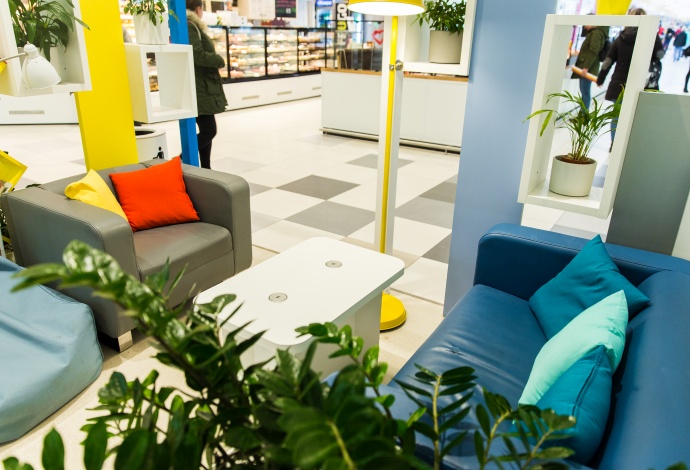 Rest area
Comfortable seats, soft pillows and access to women's and men's press -that is what is waiting for you at rest area in Centrum Nowe Czyżyny, localized close to Leroy Merlin shop and on the other side of centre near UPC salon and Home&U shop.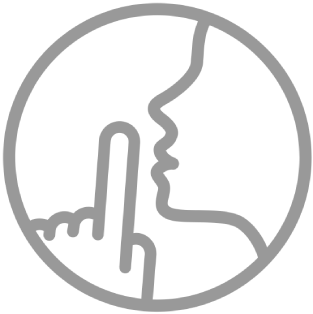 Quiet hours

Rental of muting headphones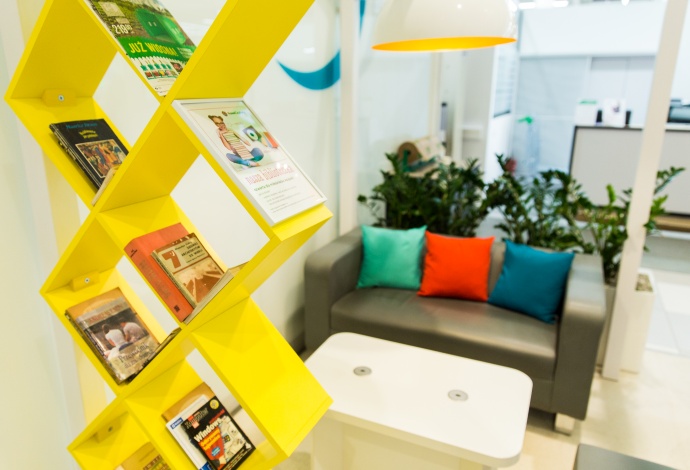 Library
When you are rested after the shopping or you just want to plunge into fascinating reading our library is the best place to visit! What makes our library special is the bookcrossing. If you like any book, you can easily take it home. After the reading give it back or leave something from your book collection. Exchange, share and inspire! In that way even dusty, old books may have a new lease of life. The libraries are nearby Leroy Merlin shop and on the other side of centre close to UPC salon and Home&U shop close by the rest areas.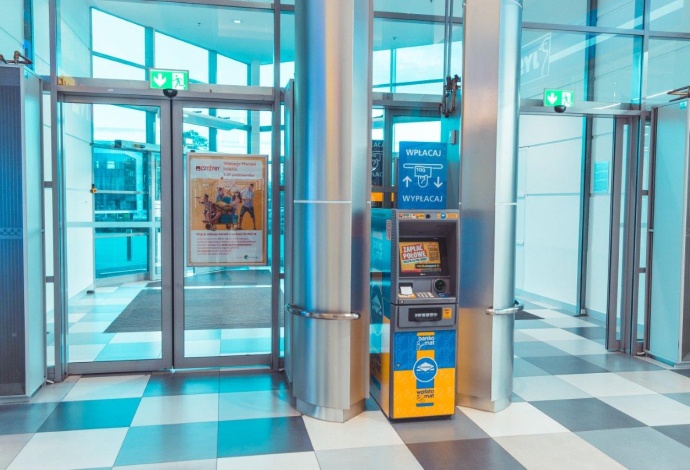 ATM
Do you need to withdraw cash? In Centrum Nowe Czyżyny you will find 6 ATMs where you can withdraw money quickly and intuitively. You will find their locations, marked with a $ symbol, on the Centre Map.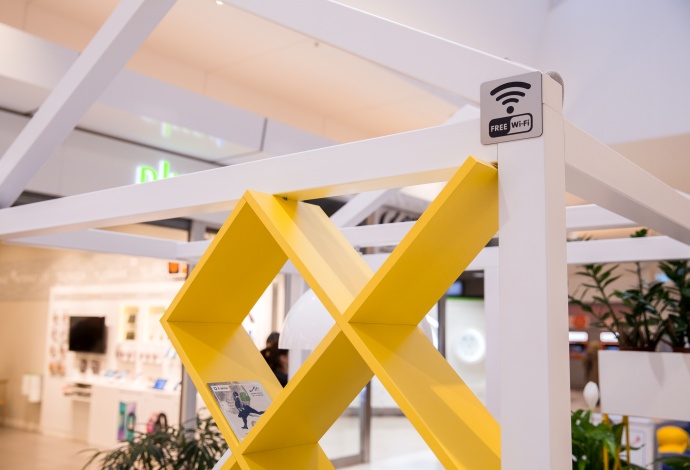 Wi-Fi
If you like to be online and your internet suite unexpectedly is going to end, you can easily use our Wifi network! To connect to it you have to find the name #CZYZYNY_WIFI and log in following the instruction.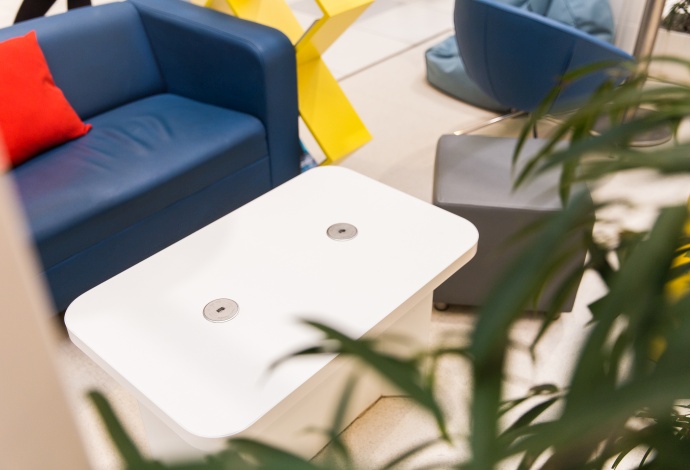 Phone charging
Low battery it is not a problem! In Nowe Czyżyny you can find 6 wireless charging stations and 2 sockets which enable fast and efficient charging of your phone.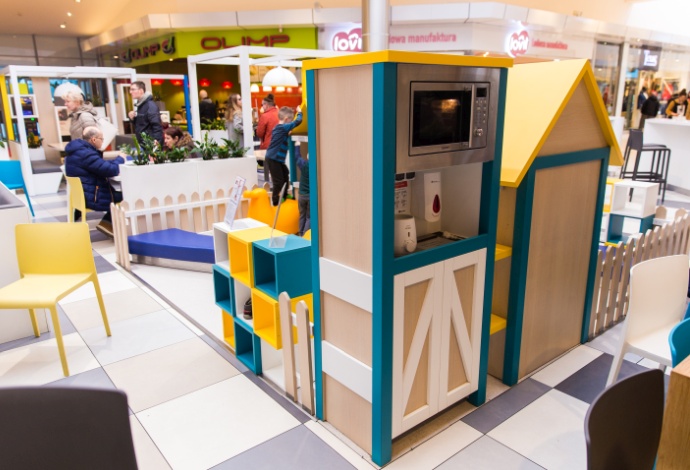 Restaurant area with children facilities
Restaurant are in Nowe Czyżyny is kindly inviting all of parents! You can find there a microwave to heat up meals, bottle warmer, colorful toys and interactive games which give no time to boredom for the youngest clients of the shopping centre.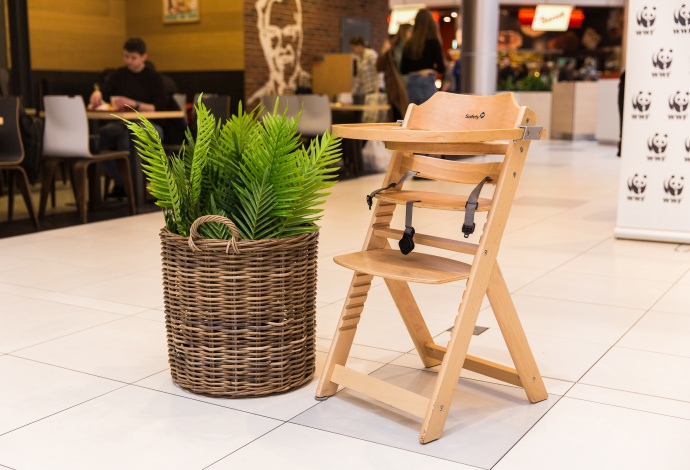 Chairs for baby feeding in the food area
You are in the middle of the shopping and suddenly feel a hunger? In our food area you can find special chairs for baby feeding.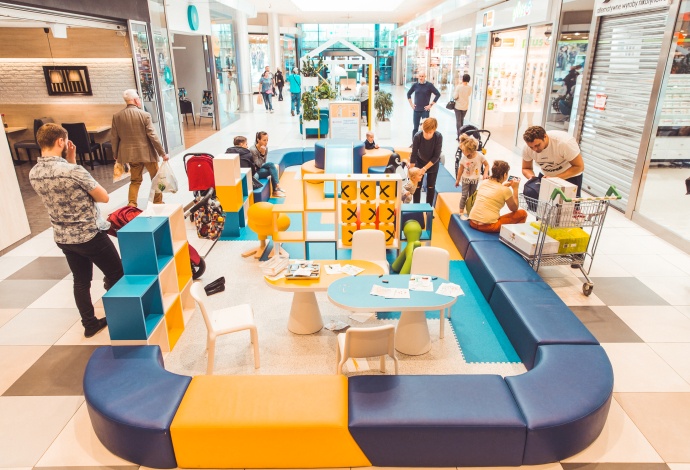 Children's playground
Children' playground in Centrum Nowe Czyżyny is a perfect place for kids! This area has comfortable pouffes, animal shaped rockers, slides, colorful toys, interactive games, books and coloring pages which give no time for boredom for our young clients. The children' s playground is located close to Cukiernia Krakowskie Wypieki.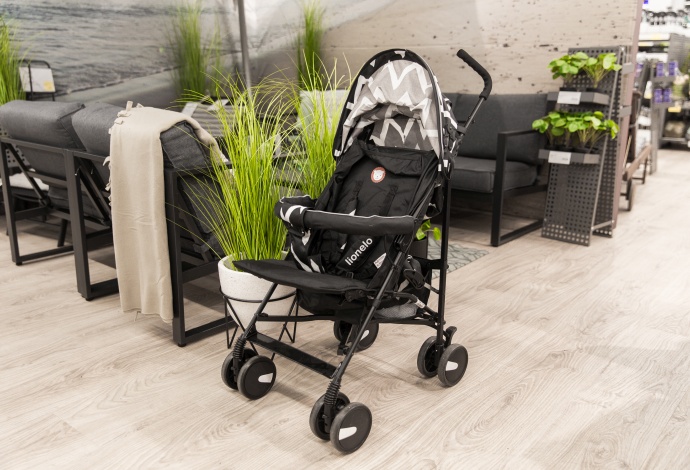 Renting a baby stroller
Nowe Czyżyny is helping in any situation! In the Guardian Ofifice there is a special baby stroller which makes your shopping with baby easier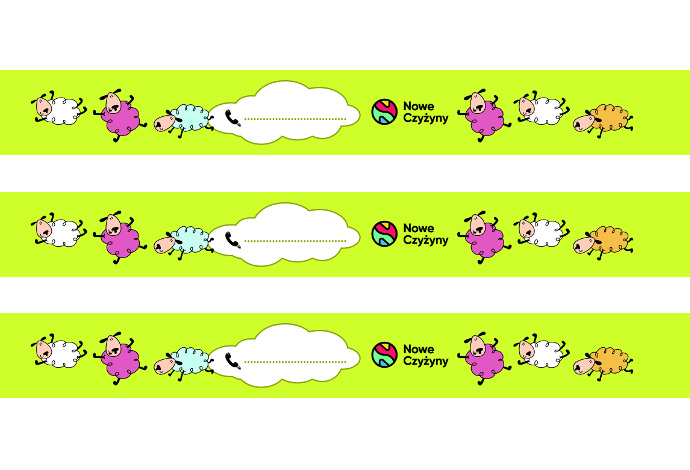 Wristband "niezgubka"
Are you worried that during your shopping you can lose sight of your child? We thought about it. In special points in the centre there are waiting wristbands called "niezgubki" for free. After writing down the phone number of the guardian and put the wristband on the child's hand you can do shopping without any worries about your child disappearance.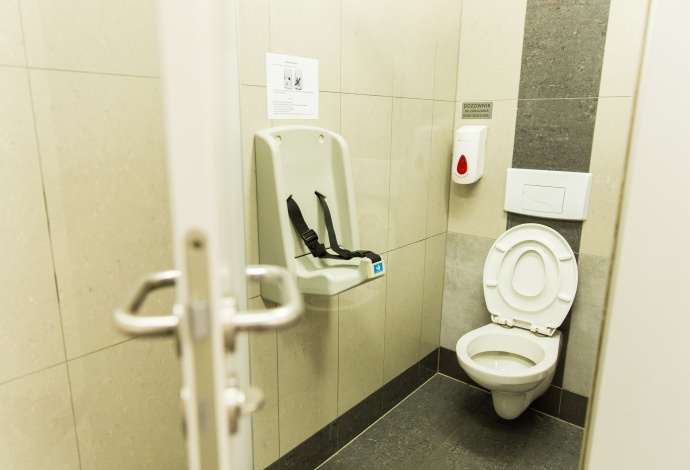 Kids Toilets
In Centrum Nowe Czyżyny there are Kids Toilets. You can find them inside woman's toilet (toilet is located close to the executive office) and close to the corridor close to Leroy Merlin Shop.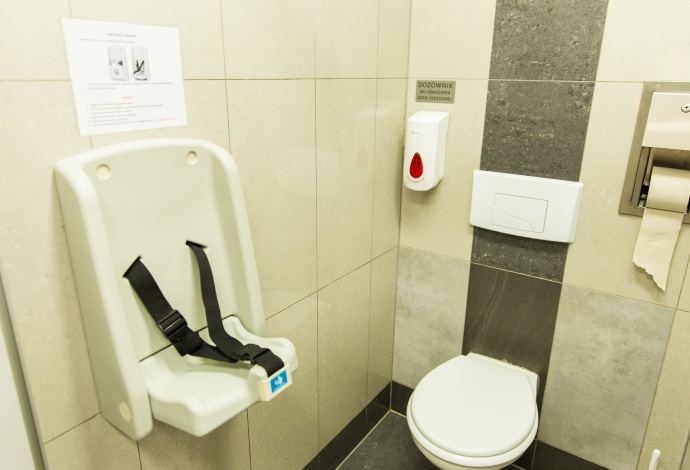 Child sets in toilets
Your child is clinged to you? In our toilets we placed special parietal seats as you can have an eye on your child.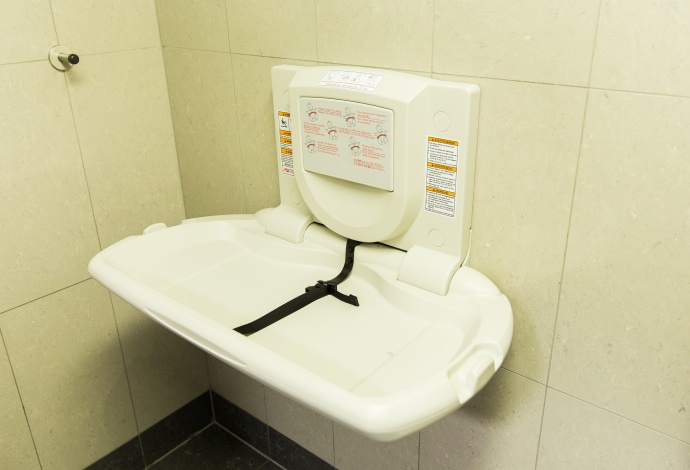 Baby changing tables in toilets
You need to change a diaper? It is not a problem! Our centre has a baby changing table where you can easily and safely change a diaper of your baby. You can find them in the toilets for disabled persons.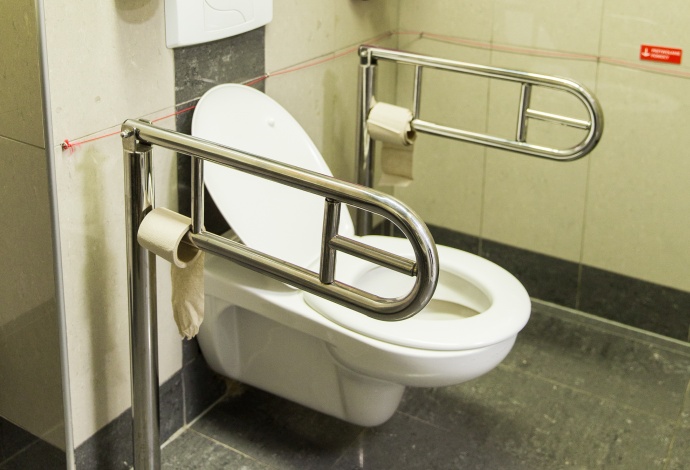 Toilet for disabled persons
Centrum Nowe Czyżyny has also toilets which are suitable for the disabled persons needs. Toilets are located in the evacuation corridors.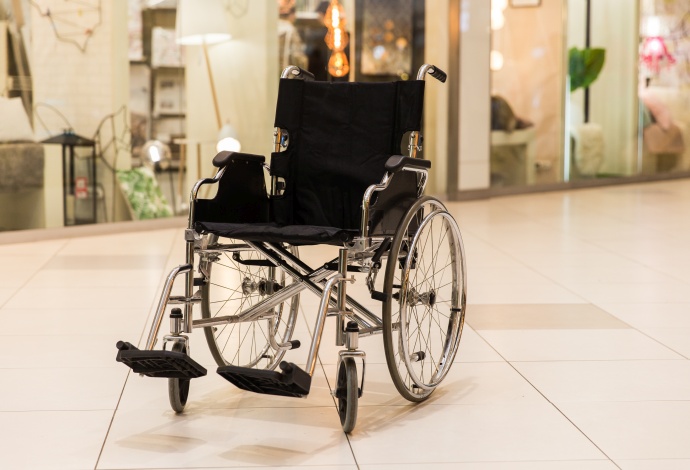 Renting of wheelchair
Unexpected accident or weakness? Centrum Nowe Czyżyny is again here for you! In the security guard you can rent for free a wheelchair which is for you to help in unexpected and difficult situations.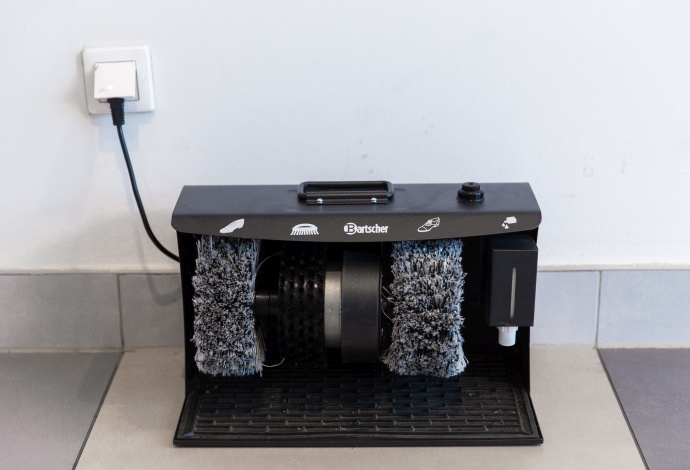 Shoes cleaning machine
You have an important meeting soon but you see that your shoes are dirty? We have a solution! Our shoes cleaning machine is just for the situations like that. The machine is located close to the RTV Euro AGD shop.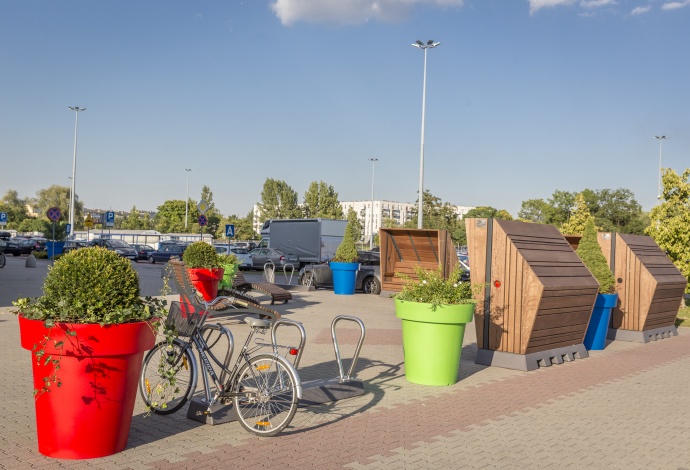 Outside rest area
Dreaming about relax or looking for an idea how to spend a free time? We invite you to our outside rest area close to RTV Euro AGD shop where there are waiting for you seats in a of lawn chair shape and roofed wicker beach chairs surrounded by planters with lush vegetation.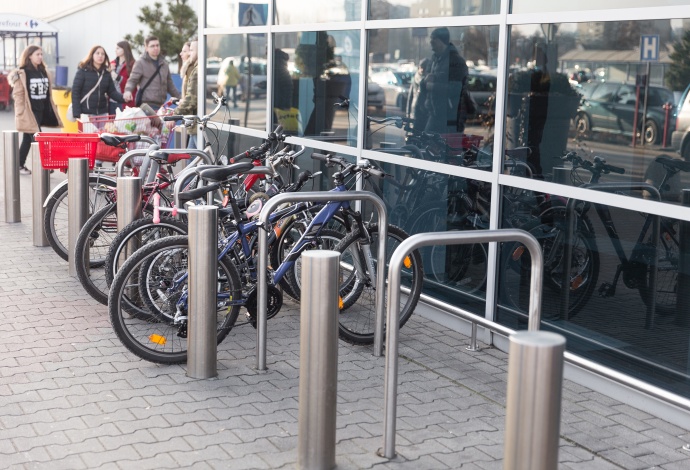 Bicycle stands
Be eco friendly and come to Nowe Czyżyny by bike! In front of each entrance to the centre there are special bicycle stands waiting for you. You can safely pin a bike and go shopping.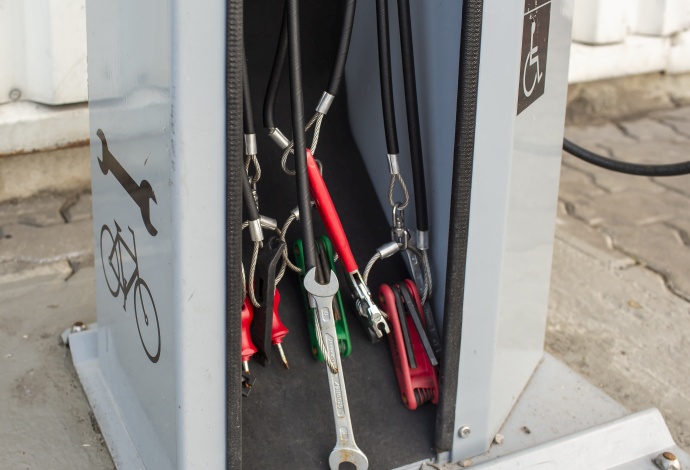 Bike repair station
Unexpected failure? Falling out scew? Our 24/7 bike repair station is here for you! It is located on the outside rest area close to RTV Euro AGD shop.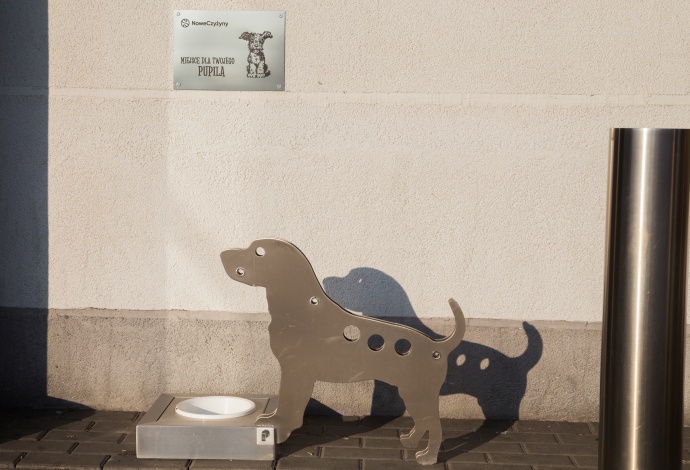 Bowls for dogs
Nowe Czyżyny loves animals! In front of entrance to our centre close to Jysk and CCC shop you can find special boxes for dogs that at any time may quench the thirst.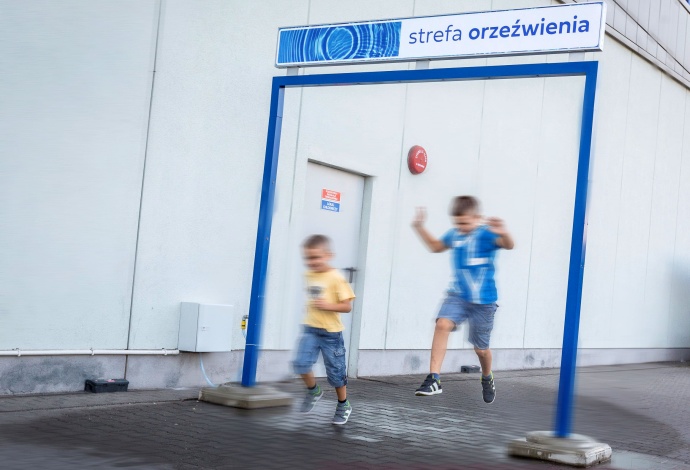 Water curtain in the summer
You need to cool down during hot days? Water curtain located in front of our centre gives you relief.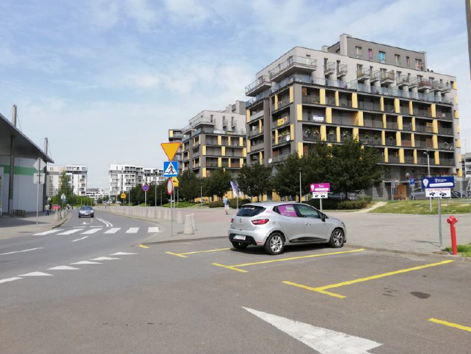 Traficar
The popular car-sharing system is now on Centrum Nowe Czyżyny! Big shopping? No worries! At the parking of our centre close to the Leroy Merlin shop you can find a safe and comfortable transport. One click and your car is reserved, parked and paid. You do not have to worry about fuel cost, service, insurance, garage or payments for parking meters. By the way contribute to reduction of cars on the street and pollution.